Filter by Category
History & Culture
Mongolia: From History's Greatest Empire to Today's Democracy
with Mark Minton

Nov 9, 2021 at 1 pm

, runs for 1 week
Mongolia is a modern-day nation with a landmass the size of Europe and a population less than 4 million. Yet, under Genghis Khan in the 13th Century, it created history's largest empire, stretching from Siberia to India and Korea to Hungary.  Now, it is also the only true democracy across the expanse of Central Asia between South Korea and Eastern Europe.  What accounts for this extraordinary culture and its achievements?
Recommended Text: Genghis Khan and the Making of the Modern World, by Jack Weatherford   
Mark is a career Foreign Service Officer with many tours in Korea, Japan, and at the United Nations. He served as Director of Korean Affairs in the State Department and Deputy U.S. Ambassador in Seoul. Formerly, he served as Ambassador to Mongolia.
Will run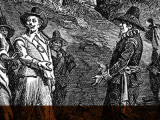 The First Thanksgiving 1621
with Alan Elze

Nov 18, 2021 at 1 pm

, runs for 1 week
The first Thanksgiving was quite different than what many were taught in schools. Join Alan to discover what Pilgrims were really thankful for.
We couldn't begin to list the many, many courses on so many topics that Alan has taught at Senior College.
Will run