Filter by Category
Online Zoom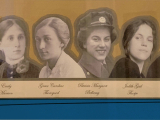 Wednesday Genealogy Workshop 1: Family Search (FS)
with Lin Wright

Jan 26, 2022 at 1 pm

, runs for -1 weeks
An introduction to using Familysearch.org for genealogical research. The focus will be on using the FS world tree as a tool to bring together resources to aid your personal research. Pros and Cons of the site will be discussed. Please sign up for a free FS account before the workshop.
Wright has been a genealogist for several decades. While largely self-taught, she has completed both a M.A. in American & New England Studies and the Boston University Certificate in Genealogical Research.  Her own family is based in New England as well as England and Scotland, but she frequently works on people with a much broader background.
Full Course
Artistree
with Judy Hierstein

Feb 4, 2022 at 10 am

, runs for 7 weeks
This online studio art course focuses on trees, in all their glory. We will try out a variety of techniques, and look at how artists have depicted trees throughout history and around the world. We will also spend time sharing our work, tips, successes and struggles with the class.
Instructor: Judy Hierstein
Judy has worked as an art teacher, graphic artist, illustrator, and digital arts instructor through her life, but now she is retired.
Will run